The rapid rise of digital technology in the 21st century has changed the world of cosmetics and beauty, uncovering new tools, new connections, and interactions through social media. It has increased the convergence of industries and continues to build on the desire for an integrative aesthetic experience by the consumer.
The beauty industry is reacting quickly: Sephora has been hanging 'magic mirrors' on their walls and many beauty brands can be a quick search on Snapchat these days. Though this is just the beginning of a paradigm shift. A new consumer is on the rise, and driving these changes are the millennials, a group that has grown up in the digital age, swayed by these innovations, interactions, and personalized experiences. Thus, embracing digital beauty and embodying these innovations is the key to the millennial market.1,2
Companies have strived to do so by taking advantage of digital technology, experimenting with concepts like skin analysis, magic mirrors, and try-on tech to creating new color combinations, unique scents, and sensorial experiences.3 This breakthrough has led to the prevalence of web and mobile applications, kiosks, and novel physical retail spaces, like pop up shops and non-traditional cosmetic product showrooms. Behind the scenes, scientists are conducting extensive research to push the boundaries of cosmetic science, resulting in the recent development of UV-measuring skin patches and even Hewlett Packard contributing their knowledge of pigment science within the color cosmetics category to ultimately satisfy the modern day consumer.4,5
Traditional brick-and-mortar locations are being upgraded with new technology as well to augment the overall consumer experience. Already this year, retailers like Sephora and Bluemercury have opened digitally-enhanced locations that also offer more one-on-one services to create a more spa-like experience that is desired by younger consumers. Department stores are taking advantage as well and mimicking these strategies, with Neiman Marcus recently launching their Memory Mirror technology to aid consumers in remembering steps and products used in their in-store makeover services.6
These 'smart mirrors' are one of the more concrete examples of how approaches to individual beauty will be enhanced with technology, offering digital skin analysis and visualization, product recommendations, and interactive live make-up simulations which enables a user to 'try on' a virtual look before applying it. These will be invaluable services to offer to consumers for any modern beauty brand.7
Latest observations entail the evolution of consumers' desire to purchase an 'experience,' not just a product – but what does that mean? Industry leaders have interpreted that the 'experience' sought by digital age millennials can be provided by the current integrative convergence of industries that appeal to them, such as beauty, fashion, art, and technology. Interest in creating experience and converging different industries has also become apparent through different fashion and beauty collaborations.
This development in the ever-changing consumer experience requires formulators and marketers to start thinking beyond the brief.2
To discuss and learn more on how these trends in technology, color and design impact cosmetic industry, the NYSCC will host a #BeyondtheBrief event on September 6th at Peclers Paris HQ in New York City, featuring inspiring talks by leaders and influencers in fashion, beauty, and technology, as well as interactive experiences showcasing textures, colors, and technologies. For attendees, it will be an opportunity to advance the understanding of the shifts in the cosmetic industry, through the lenses of technology, color and design.
References
---
Guest Author: Matthew Brooks & Diane Lachhman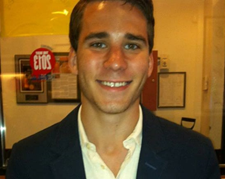 Matthew Brooks, Boston University, B.A. Chemistry 2019. A third-year student of chemistry at Boston University, former Spa Concierge at Mandarin Oriental, Boston, and amateur perfumer, Matthew plans to enter the field of cosmetic science upon graduation, where he hopes to work in product development and formulation where science, creativity, and design converge. Believing that feeling beautiful is beneficial to one's health, he hopes to create products that help people "look good, feel good." His main areas of interest include skincare and fine fragrances, olfactive science and beauty technology, natural products chemistry and organic synthesis, health and wellness, and environmental sustainability.

Diane Lachhman, Creative Visionary and Fashion Model. Currently pursuing a BS in Cosmetics and Fragrance Marketing, Fashion Institute of Technology, New York. Prior to entering college, she has competed in various science competitions including the Google Science Fair and Intel Science Talent Search to present her original research. More recently, she has completed her AAS in Advertising and Marketing Communications with honors. After graduating from college she will follow her passion, combining her favorite subjects of art, math, and science, to develop products for cosmetics and fragrances in the beauty industry.