In 2018 the modern fragrance industry will focus on technology, the regulatory environment, and the creative challenges. One of the hottest topics and trends outside of these specific focuses in not just fragrance but all of cosmetics, industrially or independently created, is natural products and formulation, and one that has triggered a wide variety of dialogues and raises many questions for both consumers and producers.
Before recently, one would have to build a time machine to find a bottle of Kyphi, an Ancient Egyptian incense or wearable perfume thought to be a blend of cassia, cinnamon, mastic, mint, henna, and mimosa in a medium made from honey, wine, and raisins (though the precise formulation is subject to scholarly debate and varies). Now, you just have to contact a 'natural perfumer', many of whom operate on web-based commerce platforms and have built their businesses online through social media – a common gathering place for those who share similar opinions on the natural trend.
Many of these natural perfumers will advertise that their perfumes are composed using essential oils and absolutes as sources of fragrant compounds that have been 'naturally' obtained through steam distillation, tincturing, effleurage, hexane-free extractions, and so on. This would be in contrast to 'synthetic' compounds that are synthesized in a laboratory from other chemicals, some of which are not found in nature and so can only be produced by these methods.
But why is 'natural' so popular, and marketing based around 'natural' products so effective lately? It is because consumers are far more invested in their health and wellness as well as the health and wellness of the environment, which is a fair concern as both could potentially be impacted by the fragrance industry, as exemplified by studies on how some older synthetic musks could harm the defense systems of marine life1 and an increase in sensitivities to fragrances noted by the American Academy of Dermatology.2
However, I am not here to espouse the idea that 'natural' ingredients and products are a way of the future, even though naturalism has been an effective tool of marketing in order to capture an emerging niche in the cosmetics and fragrance market, nor am I here to indict any synthetic materials as potentially harmful. Instead, I wish to raise questions as to the validity of natural-synthetic dialectic, on which discussions around safety seem to be based amongst consumers of fragrances whether natural or synthetic or anywhere in between, when the line between 'natural' and 'synthetic' is becoming more and more blurred.
The ultimate catalyst for that blurring is the biochemists and bioengineers who have worked to develop cutting edge biosynthetic methods of producing fragrant compounds. This involves introducing novel, artificially designed genes into the genome of bacteria, which when provided the right starting materials will synthesize and produce fragrant chemical compounds, or utilizing enzymes which are able to perform a specific transformation.
Akigalawood, a captive ingredient of Givaudan's, was produced utilizing the latter method. Their Biosciences Team found that the enzyme laccase, with processing using just water and salts, was able to transform a natural material into a new fragrant compound, never before available to perfumers and having profile similar to patchouli with hints of spicy pepper and agarwood. The former approach has seen much use as well, an example being Ginkgo Bioworks of Boston, MA having worked with Firmenich to engineer yeast capable of producing a complex mixture containing the compounds found in rose essential oil.
These developments make mince-meat of once common semantics and raise many questions that should be answered in the coming future. Is Akigalawood a 'natural' material if it was produced by an organism and not by chemical synthesis? Is linalool isolated from lavender oil by distillation 'synthetic', as it was produced using laboratory equipment? The discussion of what can be categorized as natural or synthetic by the consumer becomes quite complex once these considerations are made.
Further complicating the consumer discussion of safety and environmental friendliness is the fact that that 'natural' is not always better for the industry, consumer, and environment, counter to the 'naturalistic fallacy' which is the reason the trend for 'natural' cosmetics has seen the expansion it has. For example, sassafras oil is carcinogenic, the high levels of ketones present in sage oil are toxic, and furocoumarins in bergamot oil and atranol and chloroatranol in oakmoss absolute can cause skin reactions if not removed through laboratory processing.
Additionally, a consumer who fancies strongly rose-tinted glasses may also believe that natural materials are better for the environment, which is not necessarily true. Over-sourcing of sandalwood rosewood and agarwood has led to them becoming endangered and near extinction, and tragically the musk deer was hunted to near extinction for its musk pods to use as a natural perfumery material in the past.
In the eyes of IFRA, the regulatory body overseeing the safety standards and proper usage and amount recommendations for fragrance materials in cosmetics, it does not matter whether the material is natural or synthetic, as there are plenty of materials that are available only through chemical synthesis on their restrictions – it only matters to them whether it is safe, which is I believe the proper semantic framework to discuss ingredients and formulation for both the industry and especially the consumer, not the natural-synthetic dialectic brought about by consumer trends.
If anything, these misperceptions and trends founded on a now shaky dialectic and not overall safety signify that there is much work to be done on the relationship between company, consumer, and the environment. I believe firmly the focus of that relationship should be safety, transparency, and most importantly sustainability, rather than on the semantic category of the materials used in a formulation. Moving forward into the future of fragrance science, it should not matter whether a material falls into a certain category, but rather that it is safe for humans, animals, and the environment, and thankfully it appears we are moving in that direction. Finally, if there is an overwhelmingly positive aspect to the naturals trend, it is that it has sparked this discussion, and for that there should be gratitude.
References:
Schwartz, M. 2004. Household fragrances may be harming aquatic wildlife, study finds. Stanford Report. Retrieved from https://news.stanford.edu/news/2004/november3/Perfume-1103.html
Bouchez, C. Fragrance Allergies: A Sensory Assault. Retrieved from https://www.webmd.com/allergies/features/fragrance-allergies-a-sensory-assault#1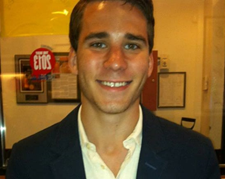 Matthew Brooks, Boston University, B.A. Chemistry 2019. A third-year student of chemistry at Boston University and fragrance consultant at Sephora, Matthew plans to enter the cosmetic industry upon graduation, where he hopes to work in product development and formulation. His recent areas of interest and study include natural products and organic chemistry, polymers and raw materials, 'green' chemistry, sustainability, and environmental protection.